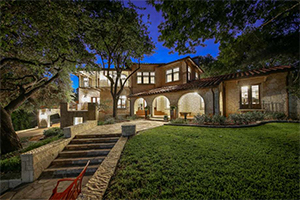 The aspiring San Antonio resident or anyone looking to locally relocate cannot lose with a move to the Alamo City neighborhood trifecta; Olmos Park, Alamo Heights, and Terrell Hills. These three small municipalities aren't in the heart of downtown San Antonio but are near and dear to the city's heartbeat.
If you are ready to discover opportunities in this neighborhood, just call Carmen.
Nestled immediately west and east of Texas 281 around the Olmos Basin Greenway, all three communities maintain individual police, fire, and sanitation departments.
Labeled as one of San Antonio's "premier" neighborhoods with residences ranging into the millions, homes can be found throughout the trifecta within the $250,000 to $350,000 price range.
more
The homes within suit the diverse home taste from small country style cottages, mid-century bungalows to early 20th century expertly restored homes. New construction is not uncommon, either on demolition and rebuild or on the few open lots still available for new development.
In today's digital world, what's often gone by the wayside is customer service. No matter the challenge of your homing needs, Just Call Carmen–here, in this neighborhood, no matter the final selection, the new trifecta resident's choice places them never farther than 5 miles from downtown San Antonio.
Alamo Heights, Olmos Park, and Terrell Hills fall in the center of four principal San Antonio thoroughfares, Interstates 10, 410, 35, and Texas 281.
Each community boasts tree-lined streets. Olmos Park is known for its lovingly restored rustic and modernized [formerly gas, now solar] street lamps throughout.
Olmos, Alamo, and Terrell guarantee handy access to the finest conveniences while keeping the promise of varying modicum of country privacies. Residents are a short distance from The Quarry, Lincoln Heights shopping, designer showrooms, couture boutiques, and countless other specialty shops.
The trifecta…Alamo Heights, Olmos Park, and Terrell Hills–fine living, fine lifestyle, semi-urban convenience; all good bets.
less
Let me show you the true north…Just Call Carmen.
Sorry we are experiencing system issues. Please try again.