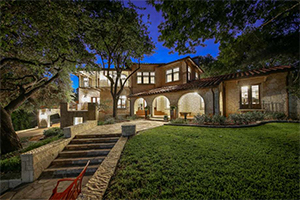 Alamo Heights, Olmos and Terrell Hills are Alamo City's neighborhood trifecta. Let Carmen Lucas, a top-tier San Antonio realtor, show you the customer service her past clients rave about.
These three small municipalities aren't in downtown San Antonio but near its heartbeat. And that is precisely why they make such excellent choices for relocation.
The aspiring resident will find themselves surrounded by lush greenery. Ultimately, world-class shopping like The Quarry Market and Quarry Village are nearby on 281.
In today's digital world, what often goes by the wayside is customer service. No matter your home needs I am never farther away than a phone call, text or e-mail.
Alamo Heights, Olmos, and Terrell Hills Neighborhood are diverse
The homes here are diverse. They vary from small country-style cottages with vintage charm or expertly restored pre World War II era properties dot the Olmos Park landscape while still preserving its sense of traditional architecture. These homes couple well with modern construction that vies to maintain existing style. Fortunately, open lots are sometimes available inviting new construction.

Anywhere within this neighborhood new residents can find their perfect place to call home. Move quickly when a home is available though. Because the area is highly desirable and inventory often low, do not delay.
Alamo Heights, Olmos, and Terrell Hills Neighborhood Trifecta
These three neighborhoods joined by low traffic streets and green-ways offer you a comfortable life with semi-urban convenience. They are all good bets for those who want to find the perfect place and quiet, that they can call home in the city.
Ask me about availability. Just give me 10 minutes on your cell phone to start finding your new nest.
Sorry we are experiencing system issues. Please try again.